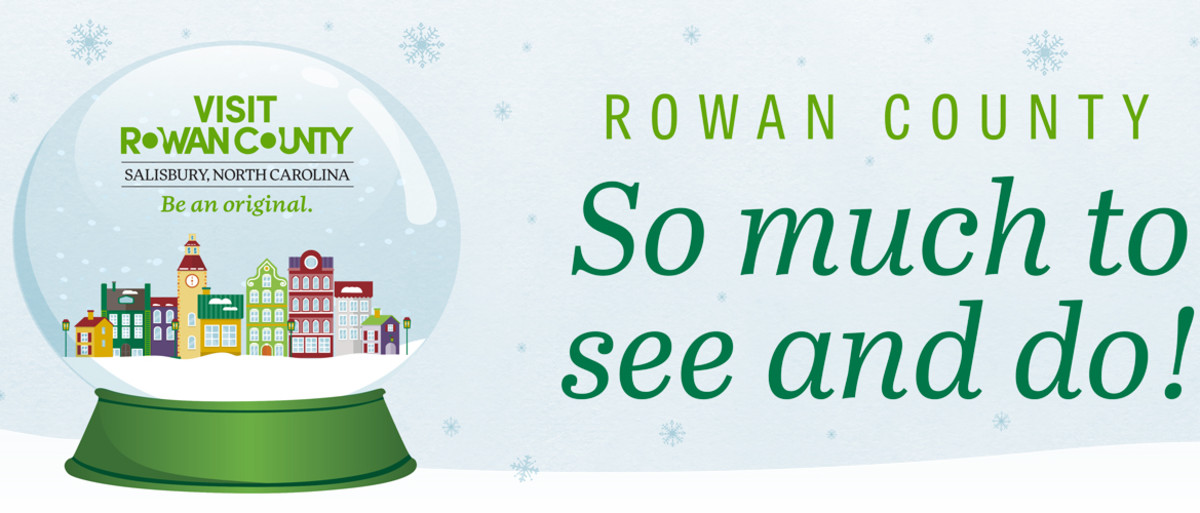 Don't let the winter months give you cabin fever, Rowan County has plenty opportunities to get out of the house!
Pencil us in for these 10 January events:
"The Threads of Time" Exhibition at Waterworks Visual Arts Center – catch this three-part exhibit before it's gone!
January 1 – February 2      Gallery open M-F: 10 a.m. – 5 p.m. Sa: 10 a.m. – 2 p.m.
Montgomery Store Bluegrass Jam at the old 1840 General Store – there's no better way to beat the winter blues than with some live music!
      January 11, 18 & 25           6 p.m.
Morgan Ridge Railwalk Brewery Tour – learn how Morgan Ridge Railwalk Brewery & Eatery makes their awesome beer with a $10 brewery tour that includes a pint of beer and souvenir glass!
January 12, 19 & 26          2 p.m. & 4 p.m.     *Reservations Recommended
The Mystery of Irma Vep at Lee Street Theatre– follow widow Lord Edgar Hillcrest on his expedition to discover immortality.
January 17-19 & 24-26      7:30 p.m.       *Tickets on sale now
Queen's Feast at Morgan Ridge Vineyards – Join in the Charlotte Restaurant Week fun at Rowan County's own Morgan Ridge Vineyards.
January 19-27 (excluding January 22)       5:30 p.m. – 7:30 p.m.        *Reservations Required
James Gregory "Funniest Man in America" returns to the Meroney Theatre – Join James Gregory for an evening of non-stop laughter and storytelling, complete with a Southern accent.
January 19         7:30 p.m.             *Tickets on sale now
14th Annual Oyster Roast at Waterworks Visual Arts Center – all you can eat and drink oysters, shrimp, BBQ, dessert, beer and wine + dance, all in support of the education and outreach programs at Waterworks Visual Arts Center.
January 26        6:30 p.m. – 11 p.m.         *Must be 21 to attend, Tickets on sale now
Stars, a Family Concert with the Salisbury Symphony Orchestra – an "out of this world" concert experience with a performance of the theme from the latest installment in the "Star Wars" saga.
January 27     4 p.m.  
The Robertson Boys in Concert presented by Friends of Rowan Public Library and the Cheerwine Concert Series – a bluegrass and folk concert for all ages!
January 29      7 p.m.
Piedmont Players Theatre presents Lunch at the Piccadilly – a new musical comedy written by two noted North Carolinians!
January 31 – February 3 & February 7-9          7:30 p.m.             *Tickets on sale now