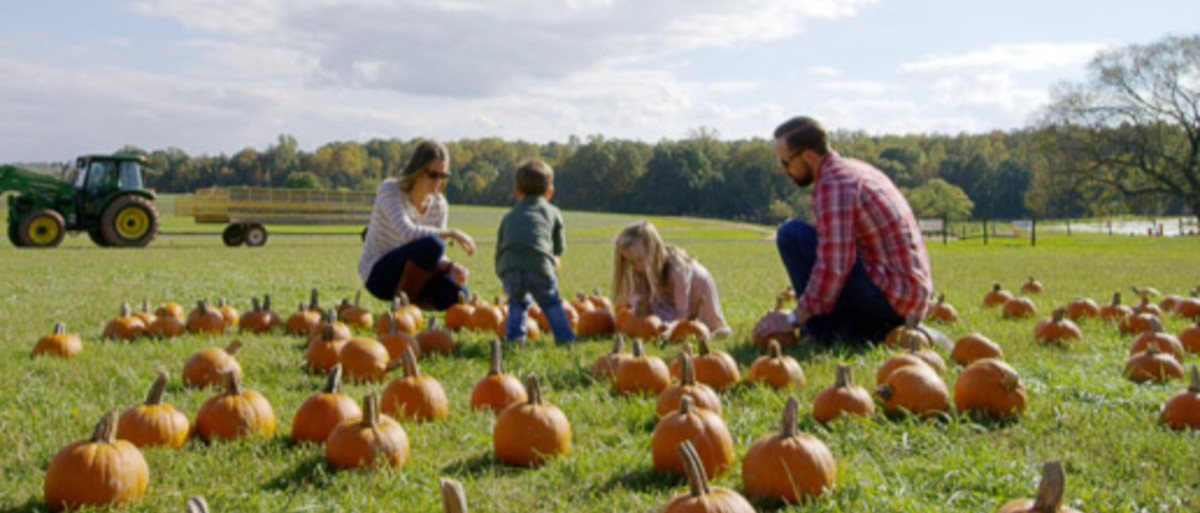 There's more than pumpkin spice lattes to celebrate as fall arrives in Rowan County! We bring our historic cultural center and flavorful charm of rural communities together for an exciting season of family friendly events. In Rowan County you can take a break from the hustle and bustle of everyday life and choose the pace of your day with one of our many fall activities. We have events for families, couples, friends and everything in between. Mark your calendars for your favorite Rowan County traditions!
HARVEST WINERY TOUR
Don't miss the final dates of our Harvest Winery Tour! Hop on board the Historic Salisbury Trolley Saturdays in September for wine tastings at each of Rowan County's original wineries! Tickets are $25 and include transportation and two wine tastings per event day. The trolley departs at 1 p.m. from the Rowan County Visitors Center and returns around 4:15 p.m.
September 22, 2018 (Old Stone Winery & Morgan Ridge Vineyards)
September 29, 2018 (Douglas Vineyards & Cauble Creek Vineyards)

PATTERSON FARM FALL FUN ON THE FARM
Come out to Patterson Farms to make memories and enjoy the changing season for Patterson Farm Fall Fun on the Farm Weekend Events! Patterson Farm's fall events run weekends from September 2 – November 3, 2018. In addition to their normal Fall Fun on the Farm activities, they have the following special events planned.
Hours: 10 a.m. – 6 p.m., Saturday & Sunday       
Admission: $10 Admission with Maize: $14 Children under 2: FREE
Patterson Farm Fall Festival Sneak Peek Day: Celebrate the first day of fall with Patterson Farm! They're kicking off their fall 2018 season with Sneak Peek Day. Sneak Peek Day gives you early access to all of their fall activities at $3 off normal admission price. Snacks, cow barrel train rides and pony rides will be available at an additional charge.
September 22, 2018
Patterson Farm Special Pumpkin Patch Adventure for those with Special Needs: Patterson Farms wants everyone to be able to enjoy the change of season, that's why they're hosting a Special Pumpkin Patch Adventure for those with Special Needs. Those who are visually impaired, have mobility issues, are autistics, or have any other special needs are invited for fall Fun on the Farm activities at $3 off normal admission.
September 23, 2018
Patterson Farm Hometown Super Heroes Weekend: Patterson Farms recognizes the sacrifices made by our hometown heroes. In appreciation they are offering free admission to firefighters, emergency responders, police officers, nurses, doctors and active and retire military in appreciation of their service.
September 29 & 30, 2018             Admission for Hometown Super Heroes: FREE
Patterson Farm Grandparents Weekend: In celebration of grandparents and the joy they bring to the lives of their grandchildren, Patterson Farm is offering free admission to grandparents!
October 6 & 7, 2018        Admission for Grandparents: FREE
Patterson Farm Scout Appreciation Weekend: Patterson Farm extends a special invitation to scout failies and troops. Wear any scouting apparel and receive a free scout patch!
October 13 & 14, 2018
Patterson Farm Touch a Tractor Weekend: Come out to Patterson Farm and touch a tractor! This weekend is filled with tractors of all shapes and sizes for your little ones to explore. This event is sponsored by James River Equipment.
October 20 & 21, 2018
Patterson Farm Teacher Appreciation Weekend: In appreciation for all those who teach, Patterson Farm is offering free admission to teachers with a school ID.
October 27 & 28               Admission for Teachers: FREE
DAY OUT WITH THOMAS – NC TRANSPORTATION MUSEUM
Little engineers everywhere are excited for  Day Out With ThomasTM ! Thomas the Tank Engine and his good friend Percy the Caboose invite children everywhere to come spend the day at the North Carolina Transportation Museum. Take a ride and make some memories with Thomas!
Take advantage of our stay and play package by booking an overnight stay in Rowan County during Day Out With ThomasTM and receive two free tickets for Day Out With ThomasTM and for Percy the Caboose.
September 28-30, 2018                 October 5-7, 2018
Admission: Thomas Train Ride and All Events: $20 (Friday) $22 (Weekends)
Thomas + Percy Train Rides and All Events: $28 (Fridays) $32 (Weekends)
LAZY 5 FALL FESTIVAL
The animals at Lazy 5 Ranch love the cooler weather fall brings! That's why they're celebrating with the annual Fall Festival. Take your chance at our famous pumpkin slingshot, let your children play all afternoon in the giant corn box, or watch our Percheron Draft Horses as they press sorghum cane stalks to make molasses. How high can you climb on our straw castle? Pick out your perfect family pumpkin in the pumpkin patch. Plus, don't forget to take a peaceful horse drawn wagon ride through the farm to feed the animals! Events include: straw castle, corn box, marshmallow roasting*, pumpkin slingshot, kettle corn*, corn hole, and lots of fall decorations! Activities are included in regular admission price, with the exception of the pumpkin slingshot ($1 per pumpkin)
*Indicates activities are only available on Saturday and Sunday
October 1-31, 2018          Admission: Adults: $11, Children (ages 2-11): $8, Seniors (60+): $8
AUTUMN JUBILEE
The Autumn Jubilee celebrates the season with live music, food, activities and craft vendors at Dan Nicholas Park. More than 180 crafters from throughout the southeast will spread throughout the park with their quality handmade items. Families can enjoy the festival by riding three miniature trains, visiting the Hurley Train Station, riding a beautiful carousel, take a paddleboat ride, play some miniature golf, or mine for gems and sharks teeth. Be sure to visit the Wildlife Adventure Center and the T.M. Stanback Petting Barn. Children can also visit our Children's Area where they can have their face painted!
October 6-7, 2018            Admission: Free
OCTOBER TOUR
October Tour is one of the oldest annual historic home tours in the South and has featured more than 200 houses and historic properties in Salisbury and Rowan County. The Historic Salisbury Foundation will hold the 43rd annual October Tour is going off the rails, by showcasing the railroad history between Salisbury and Spencer. Historic Properties in Spencer, the North Carolina Transportation Museum, North Main Historic District and Downtown Salisbury properties will be shown. October Tour featured homes are of varying sizes, complexity and architectural styles. The tour sites tell the stories of those whose lives and labors have shaped the character and the historic fabric of this community.
October 13-14, 2018       Admission: $25 in advance, $30 day of event at Historic Salisbury Station
THEATRE AT THE FARM
Rowan County Tourism Development Authority, Patterson Farms and Piedmont Players Theatre are hosting a special Arts & Ag collaborative event: Charlotte's Web during Theater on the Farm. This special production will be performed at Patterson Farm in the barn and will be performed by Piedmont Players Theatre.
October 13-14, 2018       Admission: $2.50 in addition the Patterson Farm's Fall Fun on the Farm admission pricing. Children Under 2 are free. 
KALEIDOSCOPE ARTS AND AG FESTIVAL
Kaleidoscope Arts & Ag Festival will be the closing event of a yearlong celebration of farms and artisans in Rowan County. Chefs' demonstration, live music, food trucks, vendors, wineries and breweries and kids' activities will fill the day with family fun on the North Carolina Research Campus in Kannapolis.
November 3, 2018           Admission: Free
For a full list of events, please visit our events page on our website.