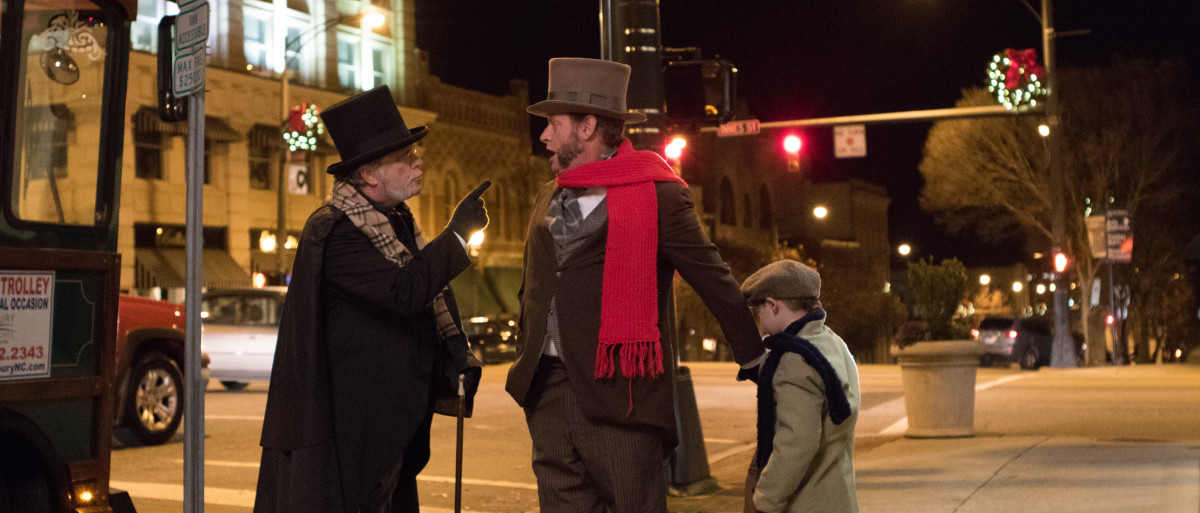 Rowan County is packed full of holiday fun this season. We know this time of year can get busy, but it's important to stop and create those lifelong holiday memories with your family. We've got memory making activities galore in Rowan County. In order to keep you in the know on all things holiday, we've compiled this weekend guide just for you!
THIS WEEKEND IN ROWAN COUNTY [holiday edition]: DECEMBER 14 - 16
Piedmont Players' Youth Theatre presents A Christmas Story: Humorist Jean Shepherd's memoir of growing up in the midwest in the 1940s follows 9-year old Ralphie Parker in his quest ot get a genuine Red Ryder BB gun under his tree for Christmas. (Friday, Saturday, Sunday)
Celebration of Lights & Winterland Express: Come one come all aboard the Winterland Express Train at the Celebration of Lights in Kannapolis. More than 250,000 Christmas lights will light up in Village Park in Kannapolis. View the lights by foot or aboard the Winterland Express! Visit Santa in his studio, listen to performances of the Kannapolis Singing Bears and take in carols from local musicians. (Friday, Saturday, Sunday)
Christmas at the Hall House: Celebrate the holidays at the Hall House! Christmas decorations fill every room of this 1820s landmark in Historic West Square. Step back in time and explore the history of the Hall family while enjoying the decorative touches of the season. (Saturday and Sunday)
Polar Express Train Ride: The magic Christmas Classic, The Polar Express, comes to life at the North Carolina Transportation Museum. Enjoy a 70 minute train ride to the North Pole to see Santa give the first gift of Christmas! Enjoy cookies, cocoa, singing, dancing and believing in the magic of the season! (Friday, Saturday, Sunday)
Scrooge's Christmas Trolley Tour: A dramatic retelling of Charles Dickens' "A Christmas Carol," featuring both light-hearted and serious moments aboard the Historic Salisbury Trolley. This live theatre production is put on by Lee Street Theatre. (Friday, Saturday, Sunday)
Rowan Big Band: The Rowan Big Band All Stars maintain a long tradition of big-band standards and swing era favorites from the 1930s through present day. Celebrate the holiday season with well known classics with Live at Lee Street this weekend. (Saturday)
Bethlehem Prayer Service: Live broadcast of the Advent Prayer Service Simulcast with Christmas Lutheran Church in Bethlehem, The Holy Land and the National Cathedral in Washington, D.C. St. John's welcomes all in the community to join in this annual worship service in the Faith Center. (Saturday)
Holiday Blitz: Holiday Shopping Blitz at the Salisbury Civic Center. Locally made crafts, food and art for all of your holiday gift needs. Raffles, giveaways and photos with Santa! (Saturday)
Christmas in The Grove: 100% chance of snow in China Grove this weekend! Bring your plastic sled or buy one there and have a fun night of sledding, food, hot chocolate, s'mores, firepits, Santa, horse drawn wagon rides, caroling and more! Downtown shops will also be open late! (Saturday)
The Nutcracker Ballet: This enchanting family-friendly production takes the stage at Catawba College for the 15th year! This annual holiday favorite is about a little girl, Clara, and her magical journey to a land of sweets. (Saturday, Sunday)
Santa + Grinch Antique Firetruck Rides: Santa and the Grinch return to Downtown Salisbury in their firetruck! Take a ride in their antique firetruck and then finish your Christmas shopping, enjoy a warm meal, or simply enjoy the festive atmosphere in Downtown Salisbury! This event is free. (Saturday)
Tea with Mrs. Claus: Mrs. Claus will pay a special visit to the North Carolina Museum of Dolls, Toys and Miniatures. Join her for tea, cookies and more! She has also agreed to pose for photos, so don't forget your camera. 
Lessons and Carols: A Service of Lessons and Carols will be offered at the 11 a.m. worship service at St. John's. This traditional service tells the prophecy and birth of Jesus Christ as it unfolds in scripture, carols, anthems and special readings.
To keep in the know of all things Rowan County, like us on Facebook, follow us on Instagram, keep up with our Tweets and bookmark our Blog. To see a full calendar of events, visit our website.