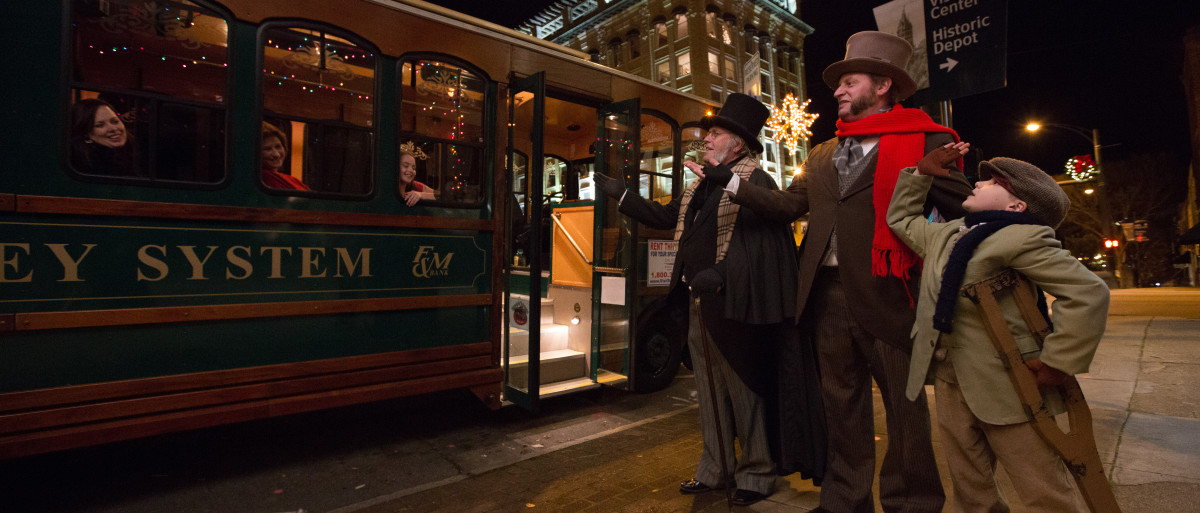 Rowan County is packed full of holiday fun this season. We know this time of year can get busy, but it's important to stop and create those lifelong holiday memories with your family. We've got memory making activities galore in Rowan County. In order to keep you in the know on all things holiday, we've compiled this weekend guide just for you!
THIS WEEKEND IN ROWAN COUNTY [holiday edition]: DECEMBER 7 - 9
Historic Gold Hill Christmas in the Village: The gold Hill Merchants Association will host Christmas in the Village. Join them for an old fashioned Christmas with light refreshments in the village shops, photos with Santa, hayrides to the barn, live music, marshmallow roasting over the open fire and more! Shops will be open on Friday and Saturday until 8 p.m. and Sunday until 5 p.m. (Friday, Saturday, Sunday)
Kannapolis Christmas Parade: The 80th annual Kannapolis Christmas Parade is a special nighttime parade held in downtown Kannapolis. The parade begins at 6 p.m. and travels through the streets of downtown Kannapolis. The parade is presented by Cannon Pharmacy. (Saturday)
Piedmont Players' Youth Theatre presents A Christmas Story: Humorist Jean Shepherd's memoir of growing up in the midwest in the 1940s follows 9-year old Ralphie Parker in his quest ot get a genuine Red Ryder BB gun under his tree for Christmas. (Friday, Saturday, Sunday)
The Sleigh Ride Home - the Salisbury-Rowan Choral Society: Enjoy a rollicking, musical holiday ride with community members! This event will be held at two different locations over the weekend. Friday at First United Church of Christ, and Sunday at Milford Hills Methodist Church. (Friday, Sunday)
Celebration of Lights & Winterland Express: Come one come all aboard the Winterland Express Train at the Celebration of Lights in Kannapolis. More than 250,000 Christmas lights will light up in Village Park in Kannapolis. View the lights by foot or aboard the Winterland Express! Visit Santa in his studio, listen to performances of the Kannapolis Singing Bears and take in carols from local musicians. (Friday, Saturday, Sunday)
Waterworks Visual Arts Center Children's Holiday Workshops: Waterworks is hosting two holiday themed children's workshops this weekend. Ages 4-6 are invited to create pop-up holiday puppets and ages 7-12 are invited to create their own keepsake clay ornaments! Space is limited. (Saturday)
Christmas at the Hall House: Celebrate the holidays at the Hall House! Christmas decorations fill every room of this 1820s landmark in Historic West Square. Step back in time and explore the history of the Hall family while enjoying the decorative touches of the season. (Saturday and Sunday)
Polar Express Train Ride: The magic Christmas Classic, The Polar Express, comes to life at the North Carolina Transportation Museum. Enjoy a 70 minute train ride to the North Pole to see Santa give the first gift of Christmas! Enjoy cookies, cocoa, singing, dancing and believing in the magic of the season! (Friday, Saturday, Sunday)
Scrooge's Christmas Trolley Tour: A dramatic retelling of Charles Dickens' "A Christmas Carol," featuring both light-hearted and serious moments aboard the Historic Salisbury Trolley. This live theatre production is put on by Lee Street Theatre. (Friday, Saturday, Sunday)
Arctic Express with Steve Somers: All Aboard! Children are invited to a magical ride on the Arctic Express with magician Steve Somers. Pssengers will visit and learn about winter holiday traditions from around the world. This event is hosted by the Rowan Public Library and will be held at their East Branch. (Saturday)
Christmas with the Claws: Santa will be visiting Tiger World delivering presents to the animals and will be available for family photos! 
To keep in the know of all things Rowan County, like us on Facebook, follow us on Instagram, keep up with our Tweets and bookmark our Blog. To see a full calendar of events, visit our website. 
Happy Holidays from Rowan County!