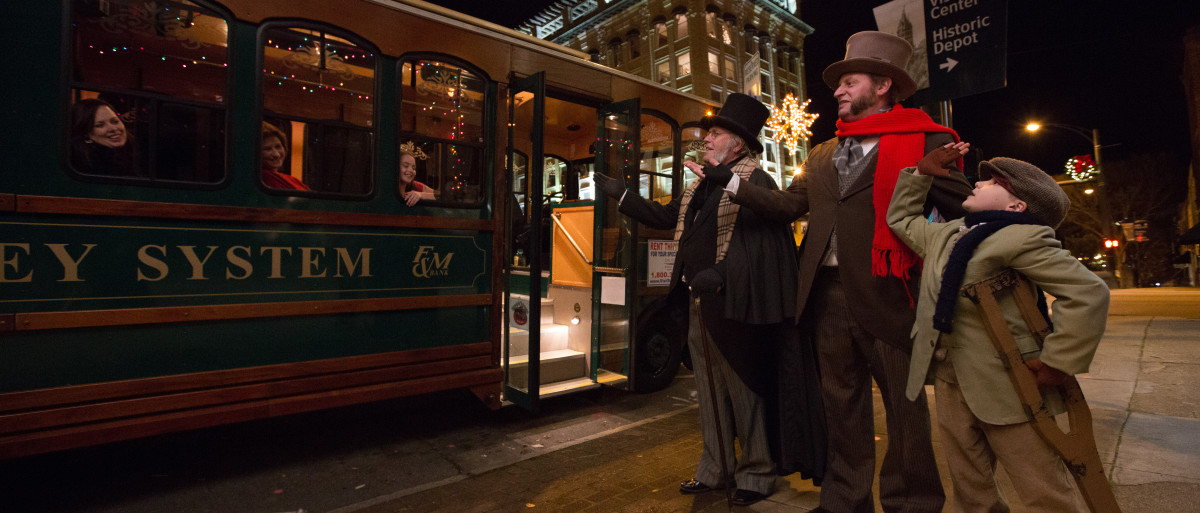 Rowan County is packed full of holiday fun this season. We know this time of year can get busy, but it's important to stop and create those lifelong holiday memories with your family. We've got memory making activities galore in Rowan County. In order to keep you in the know on all things holiday, we've compiled this weekend guide just for you!
THIS WEEKEND IN ROWAN COUNTY [holiday edition]: NOVEMBER 30 - DECEMBER 2
Arc of Rowan County Festival of Trees: The 15th annual Festival of Trees will be held at the F&M Trolley Barn in Downtown Salisbury. This signature fundraising event showcases a collection of beautifully decorate trees. Trees are decorated by groups and organizations within the community to help raise money for the Arc of Rowan. (Friday, Saturday, Sunday)
Celebration of Lights & Winterland Express: Come one come all aboard the Winterland Express Train at the Celebration of Lights in Kannapolis. More than 250,000 Christmas lights will light up in Village Park in Kannapolis. View the lights by foot or aboard the Winterland Express! Visit Santa in his studio, listen to performances of the Kannapolis Singing Bears and take in carols from local musicians. (Friday, Saturday, Sunday)
Polar Express Train Ride: The magic Christmas Classic, The Polar Express, comes to life at the North Carolina Transportation Museum. Enjoy a 70 minute train ride to the North Pole to see Santa give the first gift of Christmas! Enjoy cookies, cocoa, singing, dancing and believing in the magic of the season! (Friday, Saturday, Sunday)
Scrooge's Christmas Trolley Tour: A dramatic retelling of Charles Dickens' "A Christmas Carol," featuring both light-hearted and serious moments aboard the Historic Salisbury Trolley. This live theatre production is put on by Lee Street Theatre. (Friday, Saturday, Sunday)
Brunch with Santa: Santa may eat cookies while delivering gifts, but for brunch he eats pancakes! Your family is invited to share brunch with Santa. Enjoy food, crafts, games, photos and more! (Saturday)
Cleveland Christmas Parade: The Cleveland Lions Club will host the 46th annual Cleveland Christmas parade in Downtown Cleveland. This old fashioned Christmas parade features local folk and activities, antique cars, horses and more! (Saturday)
Holly Jolly Christmas Craft and Vendor Show: If you're looking for Christmas crafts, holiday decorations or locally made gifts, you'll want to attend the Holly Jolly Christmas Craft and Vendor show! (Saturday & Sunday)
Town of China Grove Tree Lighting: The Town of China Grove will hold their 3rd annual Tree Lighting in Hanna Park. Come join in the caroling and hot chocolate drinking while watching the holiday season come to life. (Saturday) 
Gingerbread House Workshop: Decorate your very own gingerbread house, visit with Santa and take a tour of the Rowan Museum! This event is fun for all ages! (Sunday)
To keep in the know of all things Rowan County, like us on Facebook, follow us on Instagram, keep up with our Tweets and bookmark our Blog. To see a full calendar of events, visit our website. 
Happy Holidays from Rowan County!