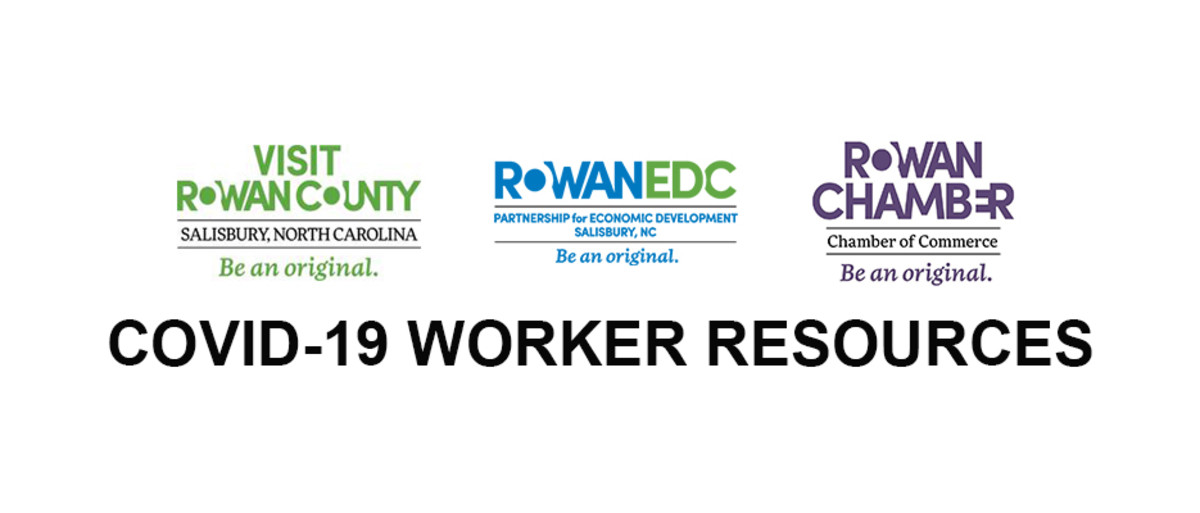 COVID-19 has brought dramatic changes to our community in a very short time. Rowan County Tourism, Rowan EDC and the Rowan County Chamber of Commerce have come together in hopes to provide guidance and resources for our workforce and employers throughout Rowan County to respond to the challenges of COVID-19. The resources and guidance for workers are changing every day and there is broad based commitment to keep the information current and easily accessible to all in need. For the most up to date information on worker resources, please visit our website.
Below are resources for workers in Rowan County affected by COVID-19 as of March 23, 2020 at 12:18 p.m.
Unemployment Information
Governor Cooper lifted restrictions on unemployment for anyone affected by COVID-19 in all industries. These lifted restrictions include; removing the one-week waiting period to apply for unemployment benefits for workers who lost their jobs, removing the requirement that a person must look for another job during this time when so many potential employers are closed and social distancing guidelines are in effect, allowing employees who lose their jobs, or in certain cases have their hours reduced due to COVID-19 issues, to apply for unemployment benefits, permitting applicants to apply for benefits remotely by phone or online, directing that employers will not be held responsible for benefits paid as a direct result of these COVID-19 claims.
Open Positions
Rowan County workers, including our hospitality sector employees, are hard working, customer service minded individuals who are able to thrive in a fast pace workplace. Many companies are seeking these types of individuals to help keep up with the current demand in our communities: 
Rowan County Jobs
Regional Jobs
For additional information, or for information specific to businesses, please visit our Worker & Business Resource page.