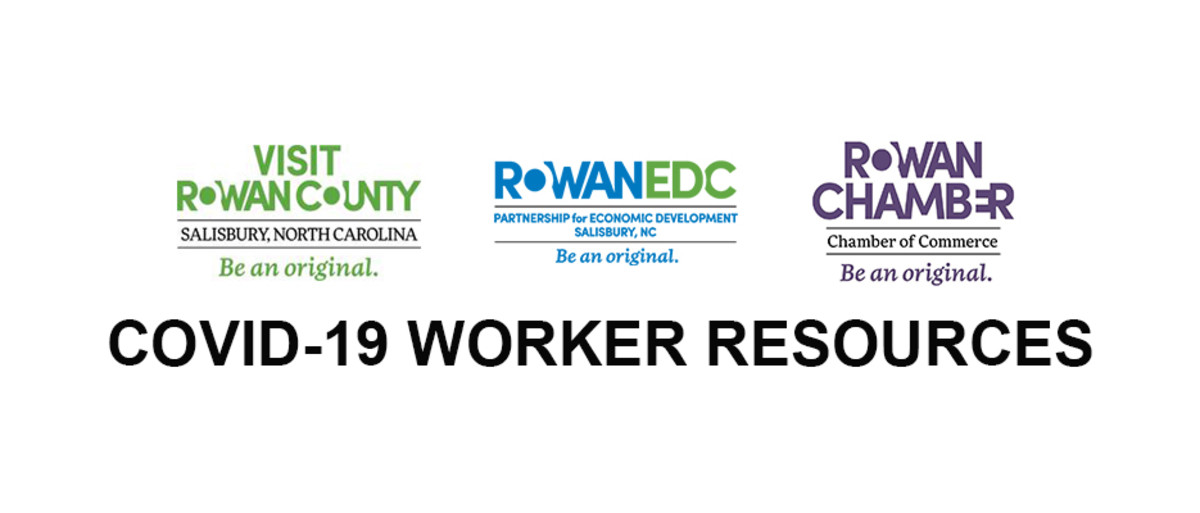 COVID-19 has brought dramatic changes to our community in a very short time. It's creating hardship for our workers and our citizens. Rowan County Tourism, Rowan EDC and the Rowan County Chamber of Commerce have come together to provide guidance and resources for our workforce and employers throughout Rowan County to respond to the challenges of COVID-19. The resources and guidance for workers are changing every day and there is broad based commitment to keep the information current and easily accessible to all in need. For the most up to date information on worker resources, please visit our website.
Below are resources for workers in Rowan County affected by COVID-19 as of April 16, 2020 at 10:30 a.m.
Unemployment
After you file your claim, your last employer has 10 days to respond to DES. Your claim may be 'pending,' and no payments will be released during the 10 days. If there are no issues, it will take about 14 days from the time you file to receive payment.
The NC Division of Employment Security (DES) received official guidance from the U.S. Department of Labor on implementing the Federal programs of the CARES Act. They are working as quickly as possible to modify their systems to make sure people receive proper and accurate payments. If workers are due any benefits prior to the full implementation of these programs, they will be paid retroactively.
DES intends to implement the programs in the following order:
Federal Pandemic Unemployment Compensation (FPUC): This program provides an additional $600 in weekly unemployment insurance benefits to eligible claimants. They are currently testing their system for this program and anticipate making the first payments by April 17, 2020, retroactive payments will be applied.

Pandemic Unemployment Assistance (PUA): This program provides unemployment compensation for individuals not eligible for regular unemployment insurance or any extensions to unemployment insurance. This will provide benefits to eligible self-employed workers and independent contractors. They anticipate the system will be ready to accept claims for this assistance around April 25, 2020.

Pandemic Emergency Unemployment Compensation (PEUC): This program provides up to 13 additional weeks of benefits for those who have exhausted their state unemployment benefits. A definitive timeline for completing system updates for this program is not yet available.
Open Positions
Rowan County Jobs
Rockwell Farms: (36 acre greenhouse facility growing bedding plants, annuals and vegetables) Currently hiring temporary help to assist in their planting and shipping of plants for their spring push through May 12, 2020. Please call (704) 279-5589 and ask for Anna. 
Regional Jobs
Potential Loss of Residency Due to Joblessness
Workers that have lost their jobs and been displaced due to COVID-19 and are concerned they will lose their place of residency please take note of the following items:
Please work directly with your landlord, property owner or mortgage holder regarding any extensions and or delays for rent or mortgages.

From the NC Attorney General: The landlord-tenant law deems it illegal to remove an individual from a dwelling without obtaining a court order enforced by the local sheriff's office. In response to the pandemic, Chief Justice Cheri Beasley issued an order halting foreclosure and eviction hearings for 30 days. On March 31, 2020 Attorney General Stein worked with Gov. Roy Cooper to establish the Governor's executive order supporting Chief Justice Beasley's order, barring new eviction proceedings, and encouraging sheriffs to delay performing evictions on previously-issued eviction orders.

If you find yourself without a place to stay, local resources exist through: Rowan Helping Ministries (704) 637-6838
For additional information, or for information specific to businesses, please visit our Worker & Business Resource page.