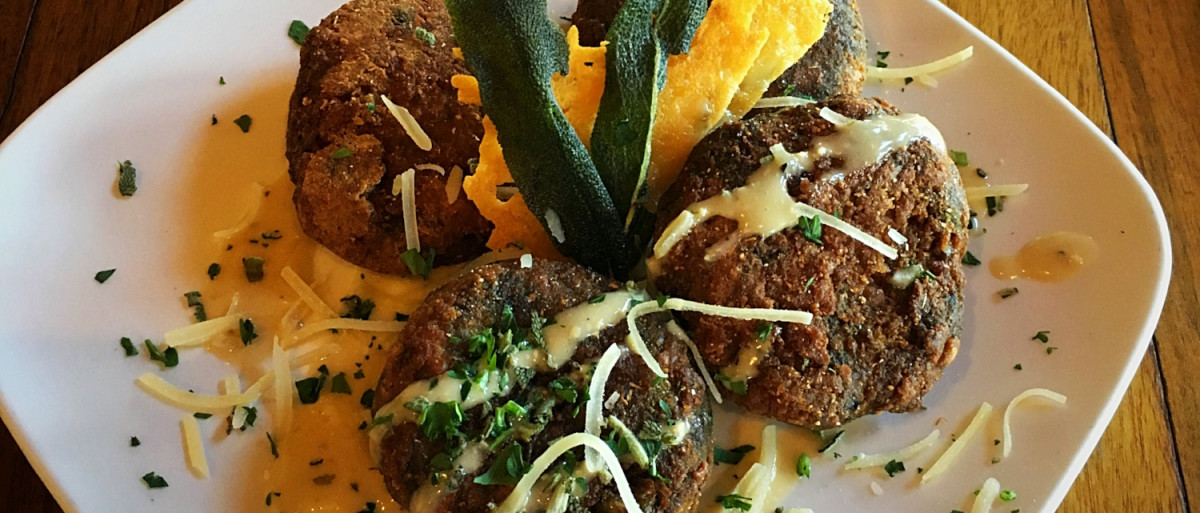 Fill your table this Thanksgiving with these delectable recipes provided by Rowan County restaurants. 
Southern Collard Bites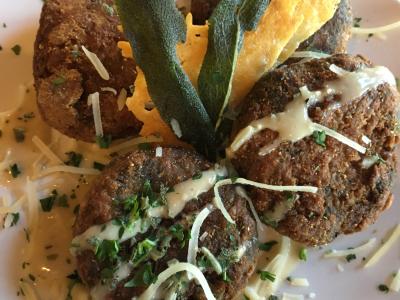 Recipe provided by Morgan Ridge Vineyards in Gold Hill, North Carolina.
1 Cup of leftover Collard Greens or one 27 oz. can of Seasoned Collard Greens
Drain well and squeeze out any excise liquid.
1/2 Cup of Pimento Cheese
1/4 Cup shredded Cheddar Cheese 
2 Cups Cornbread Crumbs
1 Tablespoon finely chopped Sage and Parsley blend 
2 Cups Flour
2 Eggs
In a small bowl mix add drained and squeezed Collard Greens, Pimento Cheese, and shredded Cheddar Cheese.
Spray a standard size muffin pan with baking spray.
Portion collard mix into muffin pans about 3/8 - 1/2 inch thick.
Freeze until solid.
Pop Frozen Bites out of the muffin pan.
In 3 separate bowls put flour, egg wash, and cornbread crumbs with the herb blend.
To bread the bites, first toss frozen bites in flour then shake off excise flour.
Second, place bites in egg wash and let excise egg drip off.
Third, coat bites well with cornbread crumbs.
From here, place bites on a cookie sheet and refreeze for another day or fry immediately for 2-3 minutes at 350⁰F.
For a simple sauce to serve as a dip or to drizzle on top use 1 Cup of your favorite store bought Caesar Dressing, 1/4 Cup grated Parmesan cheese, 1 Tablespoon fresh cracked Black Pepper, and 1 Tablespoon Apple Cider Vinegar.
Zuppa alla Canavese
A soup from the region of Piemonte in Italy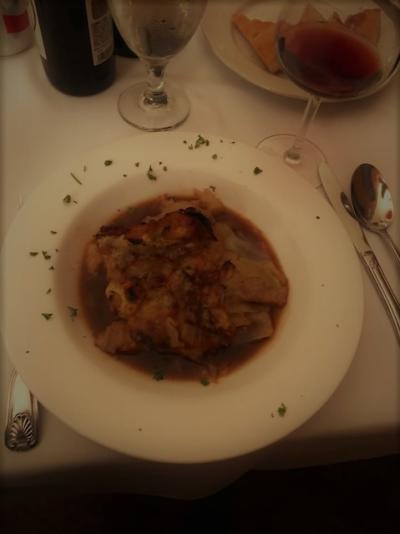 Recipe provided by La Cava in Downtown Salisbury, North Carolina.
Serves 6 people
3 Pounds of Cabbage
3/4 Pound of Pancetta, dried cured pork belly or dried side meat
24 slices (1/2 inch) of French Baguette, toasted and rubbed with Garlic
1/4 pound of sliced Gruyere or good Swiss Cheese
1/4 Pound of grated Parmesan
2 Quarts of a good Beef Broth
Pinch of Nutmeg
Garlic Cloves
Salt
In a deep pan, sauté the cubed Pancetta with minced Garlic, when it starts to crisp up add the Cabbage cut in a square inch pieces and the pinch of Nutmeg and Salt.
When the Cabbage starts to sizzled add the Broth and cook for 25 minutes.
In the meantime, get a large casserole dish and butter the bottom then layer half of the Baguettes.
When the 25 minute are passed, scoop half of the Cabbage on top of that, sprinkle half of the Parmesan on top.
Repeat the procedure and top the whole thing with the Gruyere.
Put the casserole in the oven at 400⁰F and cook for 30 minutes till golden in color.
To be eaten very hot and pair with a good glass of Barolo!