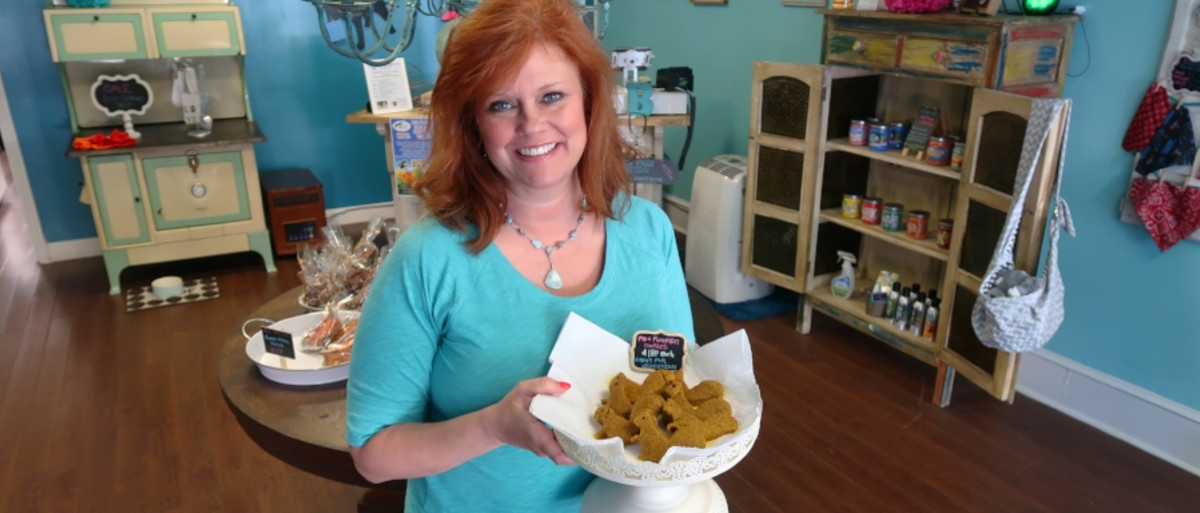 Downtown Salisbury Profiles: The People Make the Place
A series featuring the people that have made Salisbury an original place since 1753.
When she left her nursing job and took a leap of faith to open a gourmet dog treat shop in downtown Salisbury, Jean Helms had no idea how many pleasant surprises awaited.
She learned that her knowledge of human diseases and remedies would help tremendously in creating treats suited for dogs with health issues. Her store quickly became a base for educating dog owners, facilitating dog adoptions, and even assisting a local Brownie troupe in earning their pet badges. She was especially surprised when she was asked to be part of a marriage proposal at Bella's.   
"It's all so much fun it doesn't seem like work," Helms said.  "I feel like I haven't worked a day since I started."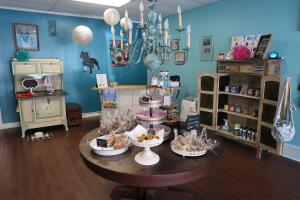 She opened the shop at 203 S. Main St. in June 2017, selling homemade dog treats, grooming tools, toys, gifts, odor-eliminating candles and more. The business is named for Bella Grace, her beloved German Shepherd, who died from complications of hip dysplasia last October at age 12.
Helms, who lives in China Grove, became familiar with downtown Salisbury when she brought her children to music lessons at the Salisbury School of Music. "I fell in love with the shops and restaurants," she said. 
So far, Bella's Barkery has exceeded her expectations and allowed her to participate in moments that touch her heart. 
"I was very emotional the day we worked with the Halfway House rescue and four dogs were adopted," she said. "And when a terminally ill dog comes in because Bella's Barkery is on their bucket list, it gets me every time." 
Helms, who describes herself as "dog crazy," has three fur babies -- Gus, a 5-year-old pit bull, Daisy, a 1-year pit bull, and Colby, a 4-year-old Pomeranian mix. She also has four human children: Sons Cameron, 20, Collin, 18, and Cohen 10, and daughter Kendall, 15. It was on a spring break trip to Hawaii with the family that she stumbled upon the color scheme for her store.
"The colors have two important meanings," she said. "In Hawaii, I was absolutely blown away by the darker blue color out in the water and how the waves crashed to the shore in aqua. If I'm going to be here eight hours a day, I want to be reminded of a great time in my life. Then, I did some research into whether dogs really only see black and white and learned they can see shades of blue and green. I continue to bring in a lot of blue and green, hoping they can see it."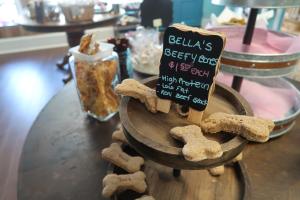 Whether they can see the colors or not, dogs certainly appreciate the treats. Some of the most popular are bacon cheddar, dehydrated sweet potato and peanut butter-oat, but new favorites are created every day as Helms experiments with recipes and expands her product line.
"It's been a matter of learning about consistencies of the ingredients and how to bake them so they're just right for a dog," she said. "I work hard at having different textures: Some are soft, and some are crunchy. Some are better for big dogs, and some are better for small dogs." She also keeps treats on hand for dogs with diabetes, pancreatitis and other common conditions.
Although dog bakeries are popping up in cities nationwide, Helms considers Bella's Barkery an original because she bakes her treats fresh daily with human-grade ingredients. "There are a lot of places with items that will sit on the shelf for three months," she explained. "Here, my treats are just like what you would get for yourself. I shop at the grocery store for my ingredients just like I do for my family."
She also has a bigger mission. She wants to make sure Bella's Barkery is a place where dogs can be adopted via rescue organizations, and people can learn more about dog ownership through free workshops every month by professional trainer Theresa Pitner. Susan Corriher of Just the Basics offers obedience training classes on Saturday mornings, and gift items and custom pet portraits by artist Susan Grace also are available.
"To me, this is about more than selling dog treats," said Helms, who, along with husband Chris, will open a dog-friendly, family-oriented bar in China Grove in May. "It's also about making a difference for the dogs, their owners, and the community."