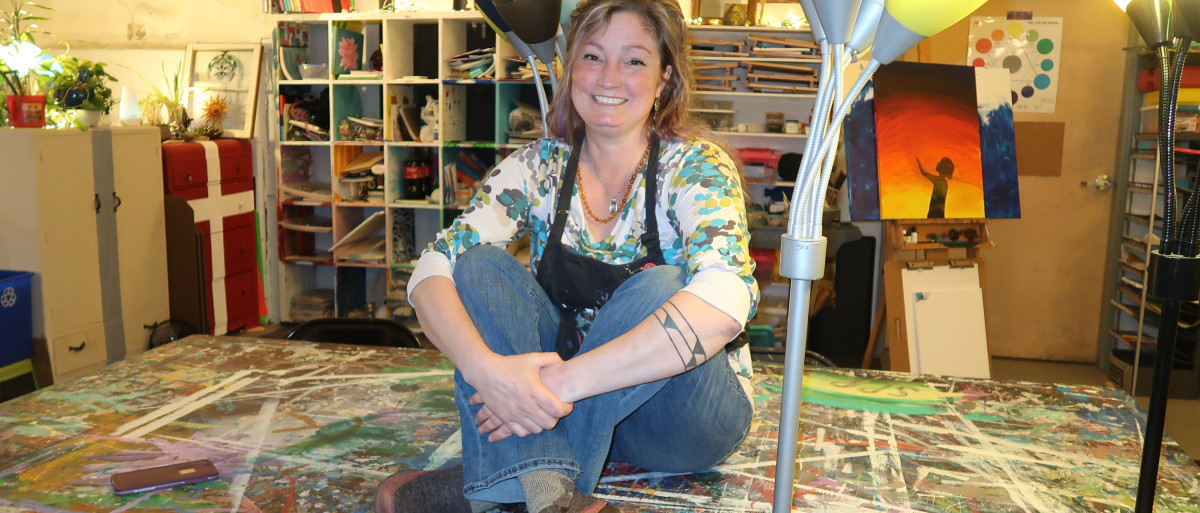 For Jessica Buckwalter, teaching art is about much more than mixing colors or knowing which brush to use for blending. She has turned it into a personal calling to help young people find their way.
At Salisbury Art Station, Buckwalter works with children and youth from all socioeconomic backgrounds, offering them a "safe space" to create, explore, learn and express their feelings. Everything from the paint-spattered tables to the cubbies where they keep their supplies comes to feel like home.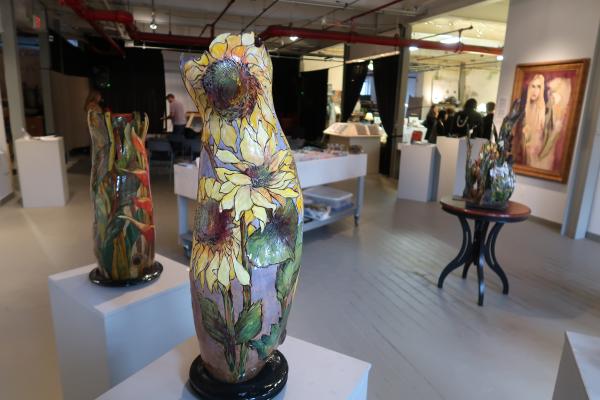 Salisbury Art Station is located at 120 E. Innes St., in what is known as Hogan's Alley, alongside the East Square Artworks studios of professional artists Whitney Peckman and Syed Ahmad. Although they do have space available for birthday parties and private rentals, Buckwalter said the focus at Salisbury Art Station and East Square Artworks is not wine-and-paint parties. Whitney and Syed use the space as their working studio, and Buckwalter finds her purpose in helping kids learn more than art.
"I'm not really looking to make a quick buck teaching people to paint a sunset," Buckwalter said. "I want to make connections with these kids and help them understand the idea of a comfortable space and how to care for each other."
Buckwalter is in the process of transitioning to nonprofit status to help Salisbury Art Station realize her goal more fully.  She will be able to apply for grants and secure funding to take her program into schools and locate children who need her help. 
"My goal is outreach and finding the kids who need me," she said. The students at Salisbury Art Station range from kindergartners to high schoolers. "It's not just poor kids. It's wealthy kids, poor kids, and everyone in between. There is no magical socioeconomic bridge that makes everything OK. We're all the same, and we're all in this together."
In the studio, it's the same routine each time: Wash your hands with soap and water. Get out your sketchbook. Follow the warm-up activity on the board, free-draw, or journal – whatever gets your creative juices flowing. 
Students are free to get their own snacks and are responsible for cleaning up after they eat. "I help them choose on the healthy side, because a lot of them don't eat vegetables," Buckwalter said.  "If they have a pack of peanut butter crackers, they need to choose a piece of fruit or a vegetable to go with it."
Art projects range from sculpture to painting and journaling, with students having three or four creations going at once. "If they feel like weaving one day while others are doing oil pastel, that's totally fine," Buckwalter said. "They're recognizing their own attention span and connecting with their feelings."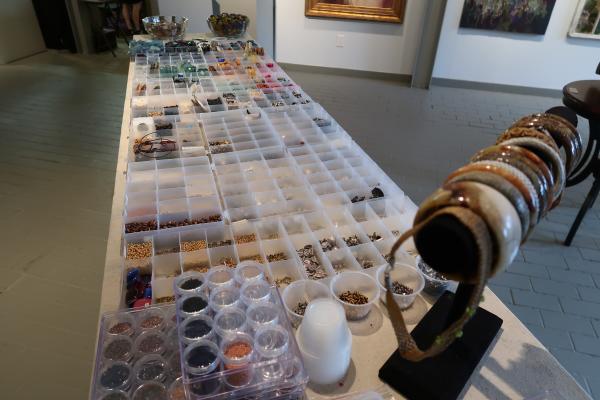 Buckwalter's biggest personal fulfillment comes from watching her students grow as people. Not only do they learn to express themselves artistically, they learn empathy and become like family.
"Kids are so intuitive," Buckwalter explained. "With the snacks, I'll watch them and, regardless of who the child is or what background they come from, they'll make sure everybody has the same amount. They've become this little family, and they care for each other. If they've grown out of their clothes, they don't take them to Goodwill, they bring them here. They are there for each other through tears and happiness."
Since Buckwalter struggles with multiple sclerosis, she shows her students by example how to push through obstacles. "The only way you fail is if you don't keep going," she said. "My mantra is two hours at a time. That's how long my classes last, and no matter how I'm feeling, I say that I can do at least that. Kids deal with everything that adults do -- parents passing away, terrible illnesses… very adult issues. I let them know that I deal with this, but I don't make excuses."
Having her studio in downtown Salisbury gives Buckwalter a chance to teach the value of supporting true local businesses. "I am surprised that even some adults don't really understand that Panera is not a local business," she said. "As downtown business owners, we may not see each other often because we are so busy, but we are friends and support each other and do everything we can to see every business to succeed." 
When she moved to North Carolina from her native Ohio years ago, Buckwalter wasn't even planning to be an art teacher. She had a degree in metalsmithing and had applied for a job at Macaroni Grill. One day, she gave a friend a ride to a job interview at a school in Cabarrus County, struck up a conversation in the waiting room, and was offered a job as an art teacher on the spot. Through the years, she also has taught classes at Waterworks Visual Arts Center and other local arts facilities.
She never envisioned herself as a school teacher or the owner of an art studio, but here she is, in the right place at the right time, doing her part to help prepare the next generation to be thoughtful, kind and productive.
"As a school teacher I found that, when something bad would happen, my students supported me as much as I supported them," she said. "Everyone needs trusted people to talk to and a place to feel safe. I told myself I would never stand by idly and watch kids float through the system without batting an eye. It's a hard realization that I can't help every child, but I can still make a difference."