Discover more with our
ENewsletter
China Grove
China Grove, NC –
Population: 4,216, Incorporated: 1889
Legend has it that China Grove was named for a stand of chinaberry trees that were a
landmark used by American Indians. Later the town was an important stop for travelers
through the area. In 1896, the town was home to one of the first three rural mail routes in the United States.

Today, China Grove is one of southern Rowan's larger communities. It's known throughout the area for Farmer's Day, an annual event drawing thousands to enjoy displays of antique farming equipment, live entertainment and a street fair on the third Saturday of July. Throughout the spring and summer China Grove's downtown farmers market gives growers in and around Rowan County a chance to take advantage of the region's strong desire for locally grown produce and homemade foods. Many shop for fresh tomatoes, cucumbers, corn, fresh baked goods, preserves and much more. The market is held on the grounds of what may be the town's best known landmark the historic China Grove Roller Mill, which draws visitors from around the area. Now operated by the Historical Society of South Rowan as a museum, the mill used to grind corn and wheat into meal and flour, feeding local households and supporting local farmers for over a century. Each holiday season, locals and visitors alike enjoy the Southern Rowan Christmas Parade and Christmas in the Grove. Throughout downtown China Grove you'll also discover unique shopping and dining experiences year-round.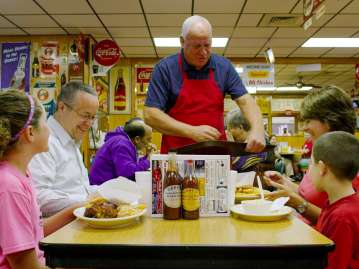 Eat & Drink
One-of-a-kind cafes, bistros, pizzerias, and several fine dining options; there's something to fit every taste, budget, and palate here.