Discover more with our
ENewsletter
Faith, NC
Faith, NC
Population: 800, Incorporated: 1903
Local tradition says the town of Faith was named for a comment by newspaper writer John Thomas Wyatt, who settled on a rocky plot of land and opened a quarry. With no experience in the field he said he was building his quarry "on faith."

The town is probably best known for its Faith Fourth of July celebration, which attracts visitors from across North Carolina. Even former President George W. Bush visited on July 4, 1992, hitting a baseball and enjoying Cheerwine with local residents. This annual celebration stretches over several days and is one of the largest Independence Day celebrations in North Carolina. 
Located just a few miles south of Salisbury, Faith Soda Shop is a must-stop while exploring Rowan County's scenic byways.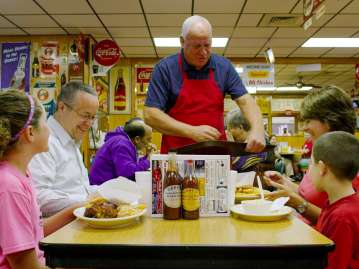 Eat & Drink
One-of-a-kind cafes, bistros, pizzerias, and several fine dining options; there's something to fit every taste, budget, and palate here.